Automated Facebook Posting For Agents
Save time and increase your business page engagement with automated homebuyer and seller Facebook content!
Set your posting schedule and our Facebook experts handle the rest.
Content works with any local market!
Content will be posted from thousands of images and articles curated specifically for real estate.
Watch your Facebook page engagement and interactions grow!
Only $74.99 $37.50 for an entire year! Use promo code PECM50 at checkout.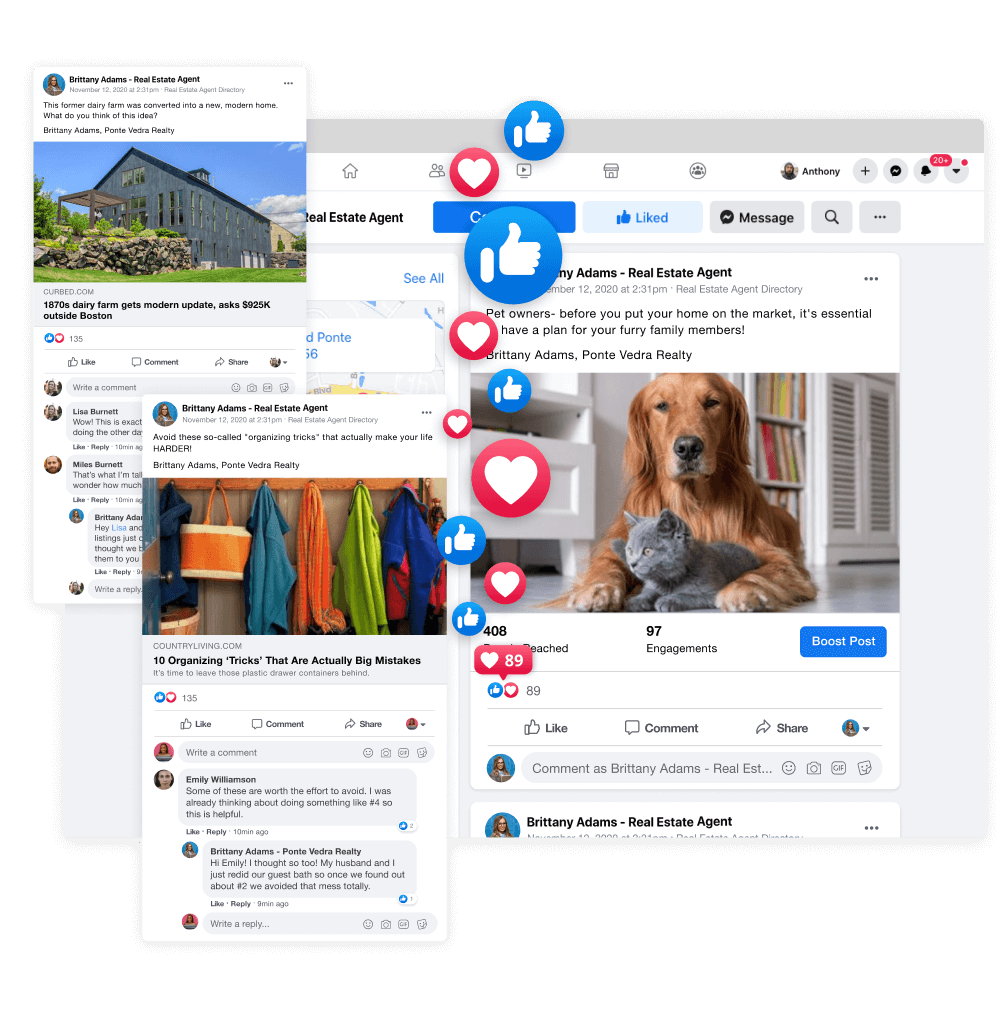 More Comments, Likes and Shares
Our posts are proven to get more interaction from the audience. You'll see more prospects commenting on your posts as well as liking and sharing with their friends. This gets you in front of a larger audience on Facebook.
You Still Have Full Control
Once Page Engage posts to your Facebook page, you have the ability to edit posts as you see fit for your brand. You can also post your own content whenever you like just like you did before Page Engage. It's also fine to just set it, forget it and leave it all to Page Engage!
Look Like a Social Media Pro
Every image and article posted is chosen with the specific objective of captivating and expanding your audience. Impress potential buyers and sellers with content that shows you're a tech-savvy agent on top of the latest trends.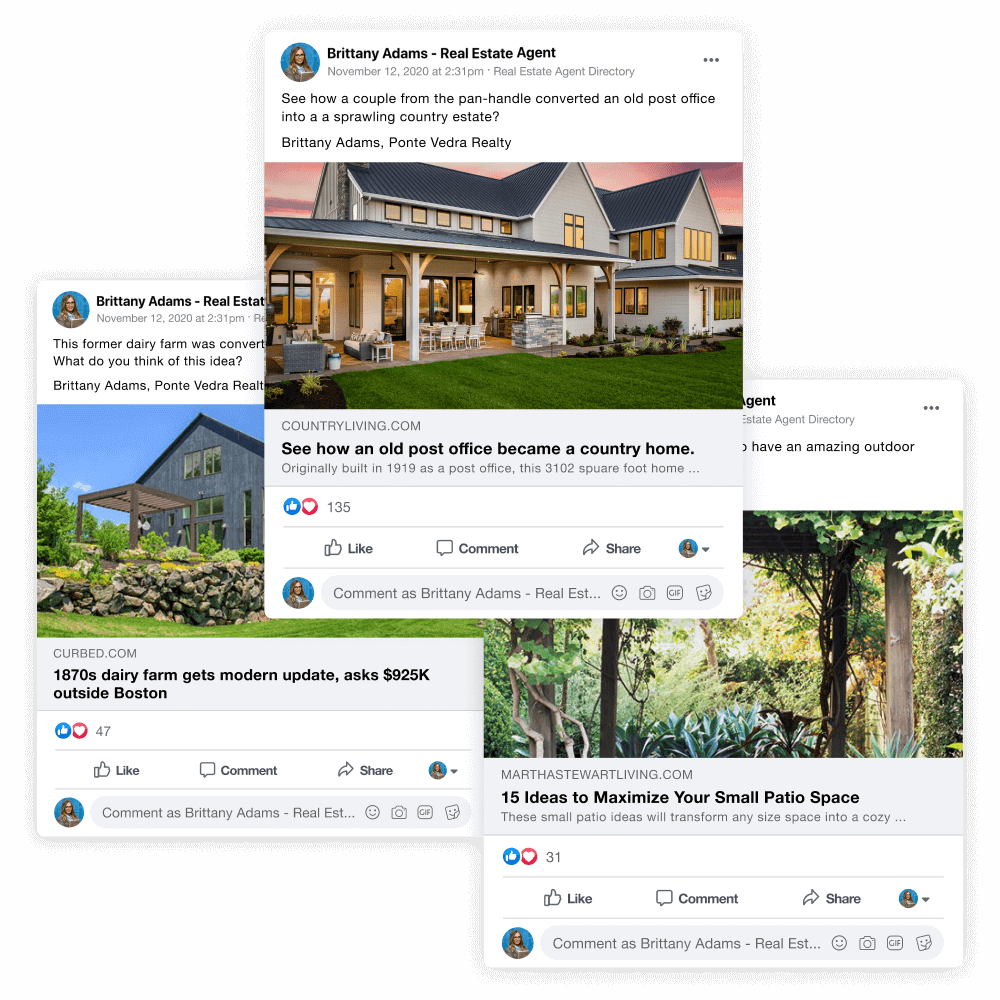 Make Your Content More Relevant to Your Market with Category Filters!
We've added a new layer of customization to the content that is automatically posted to your Facebook business page. You now have 23 New Categories to choose from as filters to ensure your content aligns with your brand. This includes locally relevant posts that fit with the market area you serve!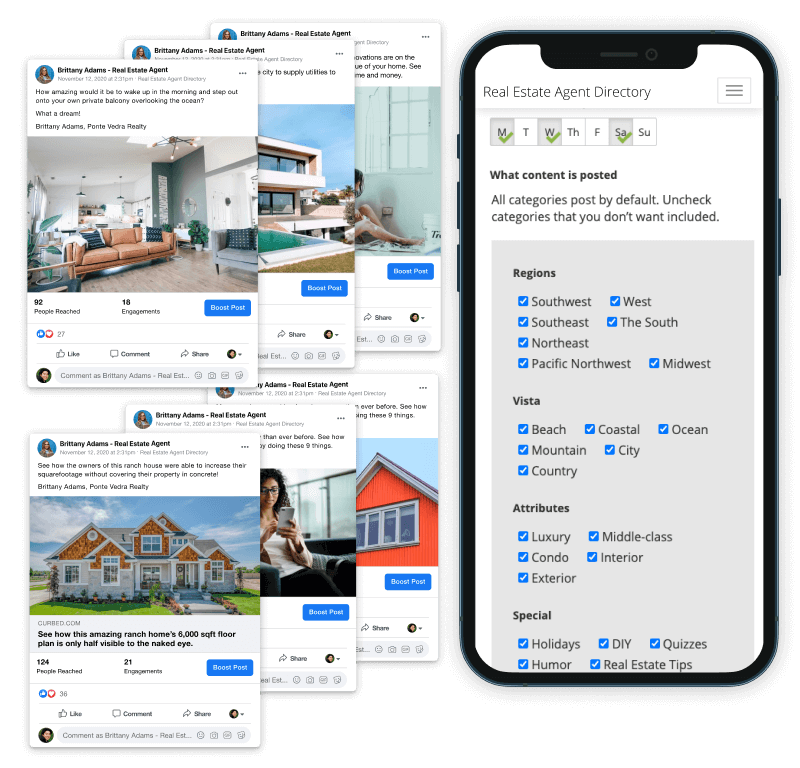 Select your page. Set a schedule. We start posting.
Page Engage takes less than a minute to setup. You just select your Facebook business page, set the days of the week you want us to post and we start posting to your page. It's that simple!
Used by agents in these brokerages & more

Checkout
Product: Page Engage for Facebook

Plan: Annual
By completing your purchase, you confirm that you've read and accept our Terms of Service. Your service will auto-renew at the end of your plan period using the default payment method until canceled by you.

100% Money Back Guarantee
We know you'll love our products. That's why we offer a 30-day no questions asked money back guarantee. Just let us know if it's not for you, and we'll refund your payment promptly.
Frequently Asked Questions
Does Page Engage post to my personal Facebook page or my business page?
Our Page Engage team posts to your Facebook business page. When you set up your service you can choose the business page(s) you want us to post to.
Am I able to edit the posts?
Yes. Our Page Engage team will post to your page as if you did it yourself. You can edit any of the posts like you normally would.
Does it cost extra to have it post every day?
No. You can set your schedule to post every day at no additional cost!
Does every agent get the same content?
No. Our Page Engage team pulls from a large database of content that is being added to on a daily basis, so it is very rare that multiple users will receive the same content on the same day.
4/5 - Very impressed
I can't believe how easy it was to start using Page Engage! I wasn't sure what to expect at first, but now that I have it, I can't imagine having a Facebook business page without this service. Thank you!
Review for Page Engage
5/5 - Exceeded my expectations
Did not know what to expect, or even if this service would be worth it. I can definitely say it's worth way more than the price I paid! Page Engage has allowed me to stay relevant in the minds of potential leads, and often I am the first name they think of when they are buying or selling a home. Money well spent!!
Review for Page Engage
5/5 - This helped put me on the map!
I didn't have much of an identity online as a real estate agent. Page Engage helped change that. Setting up my account was easy, and the content posted on my behalf is beautifully photographed imagery that captures the attention of my Facebook followers. I would definitely recommend to others!
Review for Page Engage
5/5 - Seamless Integration
Very impressed with how easy it was to integrate this service into my facebook business page. The automated content allows me to stay engaged with followers online, helping to expand my brand and generate potential leads.
Review for Page Engage
4/5 - Keeps me in the loop
Maintaining a steady presence on Facebook is difficult, especially when I have such a hectic schedule. My rep at Page Engage helps me stay relevant by picking custom content for my page, and I can easily revise any post that appears on my page.
Review for Page Engage
5/5 - Love Page Engage!
I love seeing the new likes and comments pop up in my notifications panel! Staying in contact with people on Facebook gives me a chance to get more potential clients, and definitely helps build my brand as a business.
Review for Page Engage
5/5 - Creative force behind my postings
Until I started to use Page Engage, my attempts at using social media were haphazard, at best. It has been the creative force behind my wonderful new postings. My views and likes have increased in the short amount of time and I look forward to continuing to grow my activity.
Review for Page Engage
5/5 - Difference is night and day
I really like the new posts you're putting on my page. You're doing a really great job. The difference is night and day compared to what it was to how my page is now! I really appreciate the effort you're putting in.
Review for Page Engage
5/5 - A valuable service
I'm very happy with the articles posted to my page and pictures. They are very helpful for educating people on what to expect during the process, requirements for buying, and more. I've noticed that people are commenting on my posts more, especially the pictures. I've had more conversations that have led to two new clients in only a month.
Review for Page Engage
4/5 - Saves me a lot of time
I'm way too busy to spend time finding stuff to post onmy Facebook page so this has been a huge help and time saver. My page was pretty much empty but now it looks like I'm on there all the time posting it myself.
Review for Page Engage
4/5 - Great postings
I have been using Page Engage for over a year and really like it. It is a great way of engaging people in comments and reminding them you are a Realtor.
Review for Page Engage
5/5 - More than worth it
I love the posts on my page and so do my fans! I have been getting tons of comments and messages about the new house pictures. People seem very impressed with the improvements to my page and are coming to me asking for my advice because they think of me as "the local expert"!
Review for Page Engage
5/5 - Love it!
People comment on my stuff all the time! I love that it keeps me in front of people who like my page. I had a lot of trouble trying to come up with things to post but Page Engage has taken care of everything for me!
Review for Page Engage
5/5 - You just can't beat the price
I was unfortunately paying 3 times what I'm paying now for Page Engage with another company that actually offered less content options. The new posts on my page are getting even more likes and comments while I pay less. Really wish I would've found them sooner!
Review for Page Engage